Fallout 76 Launches Season 12 With Mutant Invasion Update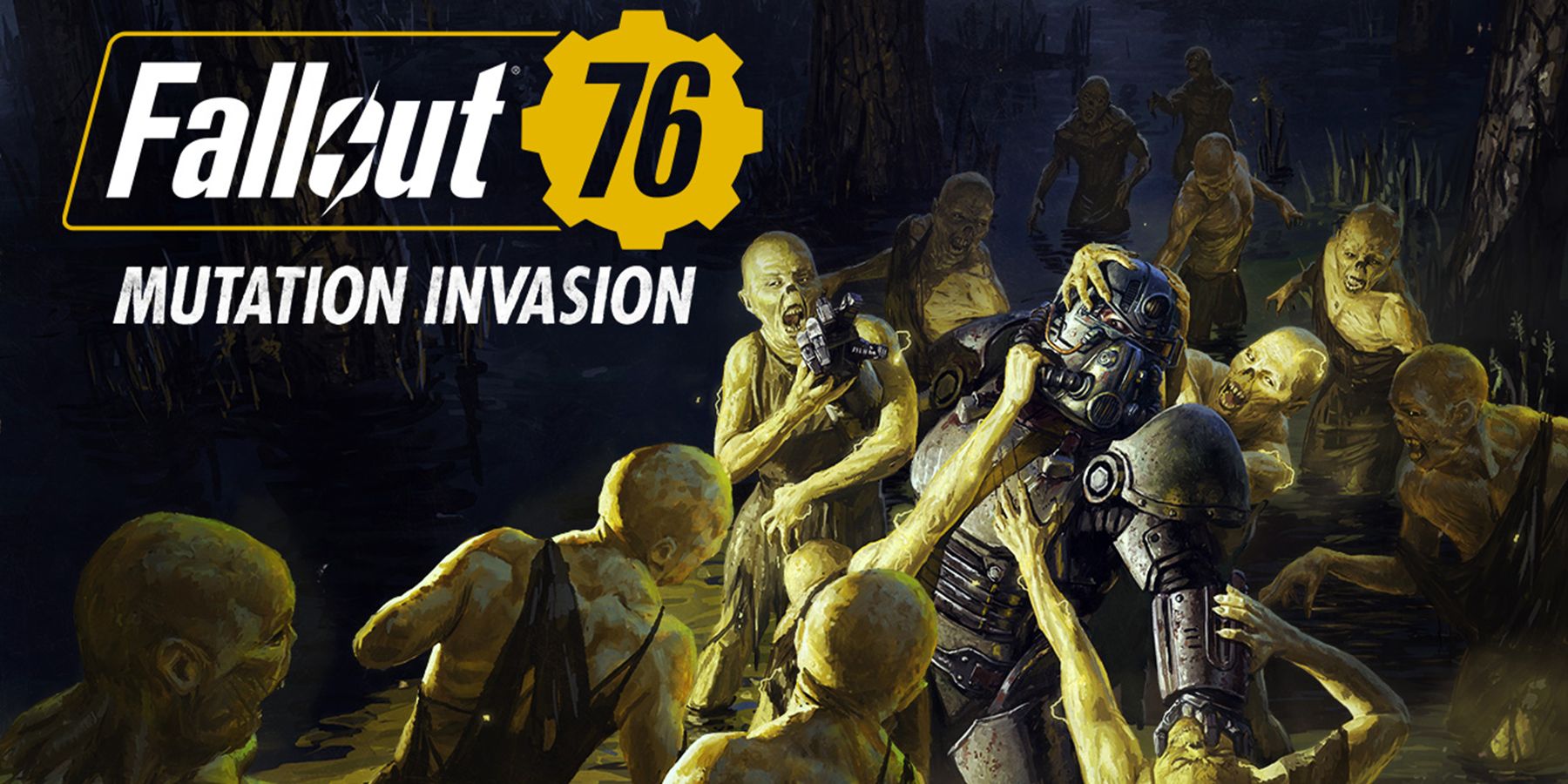 Fallout 76 has just begun its 12th season, which is themed around cryptids and features a variety of rewards along with some changes to the seasonal challenges that should make earning those rewards a much smoother process. Additionally, Fallout 76 has pushed a new update that touches on many aspects of the game, with changes ranging from new accessibility settings to bug fixes, performance improvements, and balance adjustments.
Bethesda's first attempt at a multiplayer game in the beloved Fallout universe had an extremely rough start, with the effort widely panned by gamers and critics alike due to a world that seemed to be more populated by bugs and glitches than with meaningful content. In the years since the game's 2018 release, Bethesda has continually updated the game in response to feedback and has been remarkably successful in its efforts to win back the game's reputation. As a result, Fallout 76 is now Mostly Positive on Steam after spending a year and a half in the dreaded Mostly Negative and Mixed rating brackets.
RELATED: Fallout 76 Launches Double XP Event
As a live-service multiplayer game, Fallout 76 uses a seasonal system to drive player engagement by offering limited-time rewards earnable by completing in-game challenges each day. Season 12 is out now, entitled Rip Daring and the Cryptid Hunt, and it's centered around the game's unusual cryptid creatures and Rip Daring's safari-like hunt. Season 12's rewards are mostly cryptozoological in their theme, with mothman sculpture lamps, a hunter's lodge C.A.M.P., and mountable taxidermied cryptid creatures. There are plenty of functional rewards as well such as Rip Daring's Jetpack, the Cold Shoulder shotgun, and the Daring Heavy Cryo Turret. Season 12 will run from February 28 to June 13.
Along with Season 12's launch, a new Mutation Invasion event will be taking place for the next three weeks. During Mutation Invasion, Fallout 76's Public Events will feature a mutation from the Daily Ops rotation at the top of every hour, and these events will yield better rewards and a chance at rare plans. There are seven possible mutations, such as Active Camouflage which cloaks enemies when they're not attacking, Volatile which causes enemies to explode on death, and Group Regeneration which heals enemies when they're near each other.
Fallout 76's seasons are free to participate in, and there's plenty of time between now and June for players to earn all the rewards. To make things a little easier, seasonal challenges can also be re-rolled once per day. Not only can this help eliminate unwanted challenges, but there's a chance at upgrading the re-rolled challenge to an Epic Challenge for greater rewards. Plenty of other changes and improvements have also been included in today's patch as well.
Fallout 76 Mutation Invasion Patch Notes
New Rotational Event: Mutation Invasion
Over the past four years, Appalachia has changed in many ways. While many of these changes are thanks to you (Project Clean Appalachia, anyone?) some of the changes are the results of daily long-lasting radiation exposure to the local inhabitants. Otherwise known as, "A Normal Day in the Wasteland."
Mutations you've grown to know and love from Daily Ops' missions are now spilling over into Public Events! Mutation Invasion will increase the difficulty of Public Events, or challenge you to change your playstyle, but not without hefty rewards.
Until March 21st, a Mutated Public Event will take place every hour at the top of the hour.
These events are marked with a special icon to indicate they are Mutated.

Public Events for the remainder of the hour are normal events with no Mutations.

Completing a Mutated Public Event will grant you a Mutated Package in addition to its base rewards!
The following Public Events can now appear as a Mutated Event during a Mutation Invasion:

Test Your Metal, Moonshine Jamboree, Eviction Notice, Lode Baring, Guided Meditation, Swarm of Suitors, One Violent Night, Uranium Fever, Line in the Sand, and Heart of the Swamp.
After the first 3 weeks of Mutation Invasion, this event will return every other week at the top of the hour for a week straight.
As a reminder, mutations can be:
Volatile: Enemies explode upon death.
Active Camouflage: Enemies are cloaked when not attacking.
Resilient: Enemies can only be slain with a melee attack.
Freezing Touch: Slow targets down upon attack.
Toxic Blood: Enemies leave behind small poisonous hazard upon death.
Group regeneration: Enemies heal each other when within radius.
Swift Footed: Increased movement and attack speed.
New Reward: Mutated Package
Completing a Mutated Public Event will grant you its base event rewards, in addition to bonus currency and a
Mutated Package
.
Mutated Packages include meds, resources, ammo, a 3* Legendary item, and a chance for rare plans that drop from other quests and events!
Earn more rewards with Fallout 1 st!
When participating in a Mutated Public Event with at least 3 Fallout 1st members present, everyone earns more rewards! Regardless of if you are a subscriber or not, all event attendees will earn a
Mutated Party Pack
, which is similar to a
Mutated Package
but with increased rewards, and increased chances for rare plans.
Daily Ops
In addition to Mutated Public Events, we've also added new locations, enemies, rewards, and a new mutation into our Daily Ops rotation.
New Mutation: Reflective Skin

Reflective Skin: Enemies periodically enter a Reflective state that reflects back some of the direct damage done to them.
Reflective Skin will also be on our Mutated Public Events list.

New Encounter group: Aliens
New Locations:

Charleston Capitol Building
Garrahan Mining Headquarters
Morgantown High School

New Rewards: We've added new plans to Daily Ops rewards; Floater Tubes (Gnasher, Freezer, and Flamer Variant), Hot Rod Handmade Skin, Flatwoods Monster Tube, Deep-Space Alien Power Armor skin and Jetpack.
Season 12: Rip Daring and the Cryptid Hunt
In the world of Big Game Cryptid Hunting, there is only one-man brave enough, strong enough, and smart enough to hold his own against these mysterious beasts! This Season we follow the daring and dangerous adventures of Rip Daring, Cryptid Hunter Extraordinaire, alongside his loyal Mr. Handy, Percival, and his trusty Nurse Guinevere.
New Rewards
Cryptid Rewards : From floor décor to Power Armor Paints, this new season offers up Cryptid themed goodies for all you cryptozoologists out there.
New Ally: Welcome Brother Steven into your C.A.M.P. and may the blessings of the Mothman be upon you.
New C.A.M.P. Items : Create a cozy Hunter's Cabin fit for Rip Daring himself with the Hunter's Throne or display your favorite Steins with the Taxidermy Bear Stein Display.
Re-Roll Daily and Weekly Challenges!
This Season we're introducing to you a new feature to our Seasons: the
Re-Roller!
The Re-Roller gives you the ability to change out a Daily or Weekly Challenge.
Once per day, you can re-roll one Challenge for free.
Fallout 1st members get an additional free re-roll for the day, giving a total of 2 free re-rolls.
Challenge Re-Rolls can also be claimed for free on the Season board or purchased in the Atomic Shop.
Re-Rolled Challenges have a chance to become an Epic Challenge , which offers even better rewards for completing it.
Design Changes and Improvements
In addition to the new content we've added, we have also implemented design changes to better benefit your playstyle.
Accessibility
Settings: Added a "Enable Camera Shaking" setting listed under "Display". By default, this setting will be set to on.
Design – General
Revival : When players are revived by effects such as Mysterious Savior and the Life Savings Legendary armor mod, they're now healed by the item used for the revival.
Rifles: Radium Rifles now have an increase chance to learn mods while scrapping.
Events
Stash Boxes: Added a Stash box to the following Public Events; Radiation Rumble, Scorched Earth, Lode Baring, Guided Meditation, Swarm of Suitors, One Violent Night, Uranium Fever, Line in the Sand, Heart of the Swamp, and A Colossal Problem
Enemies: We've made various improvements to the enemy spawning and pathing during events.
Heart of the Swamp: Various event improvements and difficulty increases to enemy waves.
Line in the Sand: Removed the high frequency part of the alarm sound
One Violent Night: The Emergency broadcast message at the start of One Violent Night is now shorter on repeat playthroughs, and the event now starts after turning on the jukebox, instead of entering the beer house.Additionally, we've added an objective to repair or turn on the jukebox when it is broken or turned off.
Performance : Various improvements to performance during Public Events.
Swarm of Suitors: Added additional enemy waves and appropriately increased the time allotted to complete the waves. Souped up the minibosses and gave them unique names.
Uranium Fever: Fixed an issue causing the highest tier rewards to not drop and surfaced the reward tiers in the objective text. Additionally, we added objective markers for Mole Miner Supervisors.
Mutations
Freezing Touch: Increased magnitude of the initial slow effect and decreased its duration. Removed stacking tiers. This makes Freezing Touch feel more responsive (applies immediately and wears off more quickly once you're out of the line of fire), as well as making it viable for melee enemies. Previously only ranged enemies would attack fast enough for this mutation to apply effectively.
Resilient: Throwing Weapons and Pain Train can now finish off enemies with the Resilient Mutation.
Volatile: Destructible objects are now affected by Volatile explosions.
NPCs
Vendors : Some wandering merchants will now sell Healing Salve Recipes based on the region they are in.
Seasons
Challenges : The Daily Gold Star Challenge SCORE award has been increased from 500 SCORE to 1000 SCORE.
Challenges : The number of completed Daily Challenges required to complete the Daily Gold Star Challenge has increased from 5 to 6.
Challenges : The number of completed Daily Gold Star Challenges required to earn the Weekly Gold Star Challenge has increased from 1 to 3.
SCORE: All Daily and Weekly Challenges have been adjusted to award SCORE more consistently.
Wallet
Daily Scrip: Increased the Daily Scrip Limit from 300 to 500
Scrip Wallet: Increased the maximum amount of Scrip that can be held from 5000 to 6000.
Bug Fixes & Improvements
Art & Animation
Chainsaw: Fixed the texture on the Chainsaw while the Flamer mod is equipped.
Audio:
Shelters: Players no longer hear unexpected water sound effects inside the Neighborhood Square Shelter.
Daily Ops
Teams: Fixed an issue where teammates appear as "(In Daily Ops") after Daily Op completion.
Blood Eagles: Removed Dogs from Daily Ops Blood Eagle waves.
C.A.M.P., Workshops, & Shelters
Décor: Players can no longer receive a "Wanted" status by using the Shooting Target.
Decor: Kwanzaa corn no longer floats when placed on top one another.
Blueprints: Mounted Animal Wall Décor now saves in the correct position it was placed in when Blueprinted.
Budget: Shelters will no longer show the budget being partially filled even when nothing has been built.
Items: Various fixes to the Slocum's Joe Bar Counter Set.
Kits: The Abandoned Mine Kit Half Walls are now the same height as other half walls.
Shelters: Players can now correctly place the Ring of Fire Pit and Antler Chandelier in their Shelters.
Shelters: Fixed an issue that allowed players to view out of world while using photomode in Shelters.
Workbenches: Created a new build menu icon for the Pegasus Weapons Workbench.
Challenges
Craft or Scrap: The Jack-O-Lantern helmet now correctly counts towards Craft or Scrap Challenges.
Consume: Drinking a Nuka-Twist now correctly counts toward any Consume Nuka-Cola Challenges.
Enemies
Super Mutant Behemoth: Various adjustments to the Behemoth's resistances. Behemoths now correctly have cold and fire resistance.
Gameplay
Player Level: Fixed an issue causing XP value awarded to be displayed incorrectly at very high levels. High levels will now be displayed correctly for others, and the maximum player level is now 32767.
Items
Apparel: The Junkyard Cultist Helmet now correctly prevents airborne disease.
Apparel: The Deathclaw Mascot Helmet now correctly provides damage and disease resistance from airborne hazards.
Apparel: The Brotherhood of Steel Recon Helmet now shines in the right direction.
Consumables: Fixed an issue that could result in a crash after eating Nuka Quantum candies.
Décor: The Hot Rod on Blocks now requires Steel instead of Wood to craft.
Mannequins: Power Armor Mannequins no longer have an apparel tab in the transfer menu.
Power Armor: Blackbird Elite Power Armor headlamps now display correctly.
Localization
All languages: Numerous localization fixes.
Japanese : Revisited and retranslated over 400 strings of translations.
Perks
Perks: Fixed an issue that could sometimes cause some Perk Cards to become unequipped while loading into the game.
Perks: The Tenderizer Perk now correctly stacks up to 40%.
Perks: Butchers Bounty now applies to Tick Blood.
Power Armor: Union Power armor now benefits from Sizzling Style.
Weapons: Bows cannot benefit from +250 Damage Resistance from the Reloading Legendary Perk and can no longer drop with that mod.
Quests & Events
Events: Fixed an issue that could prevent some players from hearing the NPC dialogue at the start of the event.
Heart of the Swamp: Fixed an issue that could cause the objective to find the Strangler Heart to become stuck.
New Arrivals: Players no longer can become stuck inside the Biometric Scanner.
Stability
Heart of the Swamp: Various performance improvements.
Test Your Metal: Various performance improvements.
Weapons
Auto-Axe: It is no longer possible to roll the Faster Swing Speed Legendary mod on Auto-Axes.
Energy Weapons: The Ultracite Laser Gun now has slightly increased base damage.
Crusader Pistol: The Cyro and Pyro receiver mods for the crusader Pistol now correctly use Cryo Cell and Fuel respectively.
Heavy Weapons : Adjusted the 1st person view while in the Midnight Watch Power Armor with a Heavy Weapon equipped.
World
Fort Defiance: Fixed an issue where turrets could disappear after fast traveling.Turrets will always be present in Fort Defiance.
User Interface
Fanfare: Players will no longer continue to receive the Fanfare and tutorial pop up after encountering items such as Treasury Notes, Holiday Gifts, Mole Miner Pails, and more.
Notifications: Players will no longer receive the "Pacifist is Enabled" notification while in an event and team.
Menu: Items that cannot be sold to NPC vendors no longer show a value in the Inspect menu.
Fallout 76 is available now for PC, PS4, and Xbox One.
MORE: Fallout 76 Removing Legacy Weapons Could Mean A Return Of PVP Content